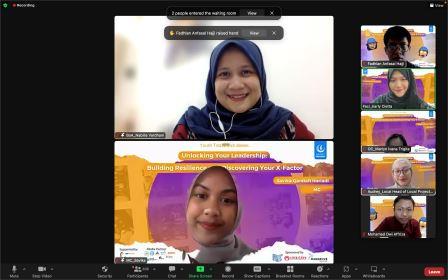 AIESEC in UGM is back again with the long awaited webinar event that was held on September 2nd-3rd 2023 exclusive for join aiesec 2023 applicants with the theme, "Unlocking Your Leadership: Building Resilience and Discovering Your X-Factor", this two-day event was attended by over 1100 participants.
This event aims to inspire youths in leadership and give deeper insights about AIESEC in UGM. Youth Today solely focuses on encouraging youths to seek their potential to be a leader for their generation. Leadership, X-Factor, and resilience are three interwoven threads that weave the fabric of success. Great leaders harness their X-Factor, leveraging it to inspire and influence others positively. Along this journey, they encounter obstacles and trials, but resilience enables them to remain steadfast and preserve. Through this event, the delegates will learn to find the keys to unlock their leadership potential and transform challenges into opportunities for growth.
On the first day, an introduction to AIESEC was presented by the President of AIESEC in UGM 2023, Salsabila Zeta Zain, with the session 'The Story of Us – AIESEC in UGM', which sums up what is AIESEC and what does AIESEC do. Following through, an exclusive Talk show, 'Embrace the Authenticity' with special guest from the successful alumni of AIESEC in UGM 2021, Nobel Brian Arianto as the Local Head of Finance 2021 and Viralaksmi Wicaksono as the Local Head of External Relations 2021, who shared their experience into AIESEC can assist individuals to be the best version of themselves. Both of them also shared how AIESEC helped them to find their own leadership styles throughout their years as an AIESEC member.
Continuing on to the last day, the first session was presented by the Local Head of Talent Management 2023, Delicatya Chamhada Rafa Abidin, with the session called 'LEAD with Us. She talked about how AIESEC works, showcasing the departments, and a brief explanation of join aiesec's selection process. Furthermore, a special Q&A session with the Executive Boards of AIESEC in UGM 2023 was conducted to help the join aiesec 2023 applicants be even more prepared for the selection process. Before closing the event, the participants were also given the opportunity to be engaged in a focus group discussion in association with the International Labor Organization titled, 'AIESEC Business School X ILO Project', and received a direct learning experience on improving their problem-solving skills.
From this two-day event, AIESEC in UGM wished the best of luck for the applicants of join aiesec 2023 for the selection process after receiving insights and inspiration from the leaders who have contributed to giving impacts for them.
Penulis : AIESEC in UGM
Baca juga :
Salah Jurusan Kuliah? Jangan Nyesel, Ada Aksel!
Bootcamp adalah Solusi Tepat untuk Belajar IT yang Menyenangkan!